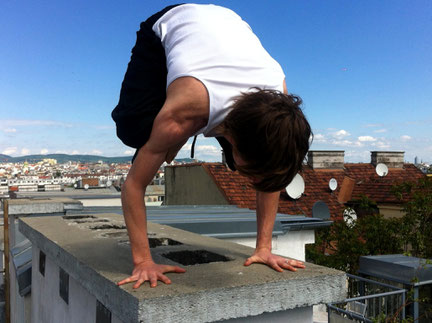 YOGA am HEUBERG 2022 mit Joey Robinson :D
Alignment Lab Workshops with Joey Robinson are designed to give a deeper experience of standard asanas. They incorporate alignment details and muscular engagement in a steady Ilow that includes space to explore what is being presented.
Why participate in an Alignment Lab Workshop? We all bring a unique body to asana practice that may or may not have the mobility, (lexibility, coordination or strength needed to really access certain poses. To better understand our uniqueness and bring more balance to our movement, we need to slow down, take a step back, and ask: what am I really doing in this pose? Everyone is welcome!
Saturday Morning, 24.09.22, 9-11 Uhr —> Alignment Lab: Grounded Expansion
This workshop explores how we can use our LEGS, HIPS and LOWER CORE to length our spine and more fully embody common standing forms. It does not feature advanced poses, but instead combines alignment instruction and muscular engagement to bring a new experience of 'standard' forms. This class is open to all. ☺ Featured poses: Lunge / Warrior variations, Standing Forward Bends /Backbends
Saturday Afternoon, 24.09.22, 15-17 Uhr —> Alignment Lab: Open Shoulders, Free Neck
This workshop explores how we can use our ARMS, SHOULDERS and UPPER CORE to open the chest, lengthen the upper spine and release tension in the neck. Modifications will be offered for all levels: The intention is to bring awareness to what is happening in your upper spine and activate the muscles of your upper core. This class is open to all. ☺ Featured poses: Down Dog, Forward Bends, Twists, Shoulder stand
ABOUT JOEY
Inspired by many styles, Joey teaches an alignment-based Hatha Yoga, designed to give students a deeper connection to, and freedom within, their bodies. In doing so, he hopes to help students cultivate an awareness of what they are and invite them to explore the vast potential of what they might become. Since 2005, he has trained with numerous teachers in the US, Europe, and India, exploring a variety of yoga styles and approaches to health and movement. These Include Ashtanga Yoga, Anusara YogaTM, Kripalu Yoga, Self-Awakening YogaTM (certified), Feldenkrais, Voice & Movement Therapy, and meditation.
He is deeply grateful to all his teachers, to all his struggles, and to the abundance and joy yoga has brought to his life.
WHAT DOES JOEY TEACH
In his classes, Joey teaches a variety of movement techniques designed to reIine your ability to put the different pieces of the body together or to take them part. But becoming skilled at integrating or differentiating movement requires more than technique; it also requires a reIined capacity to pay attention to your body and its sensations. The rewards of this practice are vast: the more we PAY ATTENTION, the more we SEE, and if we step into this process, it becomes evolutionary, expanding to transform our lives and the relationships that sustain them.
The deeper aspects of his teaching explore how we can understand the various stages and struggles of this process. Due to their scope, these themes are reserved for workshops, retreats and private lessons.
Website: joeyyoga.com